Thank you for your interest in Mexican legal support.
To provide you accurate Mexican legal advice, you can choose to do it by a traditional appointment, mail or by "Electronic Processing".
Whatever your selection may be, according to the law and our policy of practice as a Legal Consultant, it shall be necessary to verify your identity, collect from you some documentation to be verified with the possibility of conflict of interest with other clients, to formalize the professional relationship with us by the documentation required. We have the duty to investigate facts that are good and bad for clients.
The failure of clients or their attorneys to conduct a reasonable inquiry and investigation into these topics, and to disclose all relevant information may subject clients and/or their attorneys to sanctions.
If you choose a traditional appointment or assistance by ordinary mail, please let us know your decision as soon as possible to provide you a PO Box address where you shall mail us every requirement we need before an appointment.
If you choose "Electronic Processing" you must understand that it is the use of e-mail to submit scanned forms and documents. This method can substantially accelerate processing by avoiding delays and uncertainty caused by postal systems in some parts of the world. Electronic Processing is optional at our website where your application will be processed. You must decide if you will participate. Therefore, please note:
"Electronic Processing" starts with an e-mail from you to us with an appropriate requested petition about that.
Please attach a scanned image of your ID and attached documents into PDF files of ALL the Mexican issues regarding your consultation, once we have verified that we will answer you as soon as possible.
Your ID must be current, contain sufficient information to confirm that you are who you claim to be, and be traceable to you.
What Will Happen If I Participate?
When you participate in Electronic Processing you will begin to receive e-mail correspondence instead of physical mail from us. You could reply by mail or by e-mail. Some forms and documents MUST be submitted by ordinary mail. Forms submitted by e-mail must be scanned and attached to an e-mail message.
What Capabilities Do I Need?
The applicant (or designated agent) and the petitioner must:
Have regular access to e-mail internet service;

Have the ability to scan required documents into PDF files;

Be able to submit the required forms and documents electronically

(Again, some forms and documents MUST be submitted by ordinary mail)

.
What Could I Do Now to Join the Program?
You must send an e-mail to: info@mexicanlegalconsultant.com
If you are NOT able to participate, you should follow the steps we requested by a traditional appointment, or ordinary mail.
After that, if you would like to hire us to represent you, you must sign a fee agreement to retain the firm in this matter to formalize the professional relationship with us. Our representation shall be effective as of the date of our agreement. At your convenience, in determined circumstances we can also offer you a flat fee, clients will be responsible for all out-of-pocket disbursements that we incur on their behalf.
The sending of an email to us does not create, and the receipt of it does not constitute, an attorney or foreign legal consultant-client relationship.
Please be aware that anything you send to anyone at the firm will NOT be confidential, secret, privileged or otherwise protected from disclosure unless we have formally agreed to represent you in writing and a conflicts check has been successfully completed.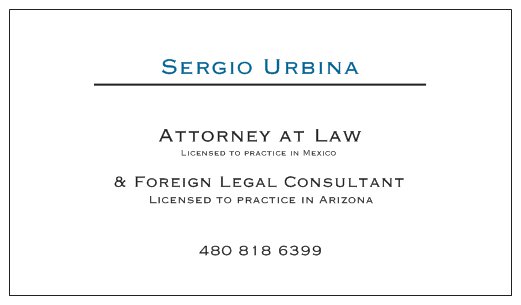 ---
---
Gracias por su interés en nuestros servicios, el procesamiento de su solicitud de asistencia puede ser personal, virtual, por correo ordinario y electrónico.
Para comenzar a proveerle información en su solicitud de asistencia, usted puede optar por hacer una cita telefónicamente para ser recibido personalmente ó de manera presencial virtual por internet, por correo ordinario ó por medio del "Procesamiento electrónico".
Si usted elige hacer una cita personalmente, para atenderle será necesario previamente recibir por fax o correo electrónico copia de su identificación oficial, posteriormente en la llamada que recibamos de usted le daremos instrucciones para su comodidad.
Si usted elige correo ordinario para envío de toda la información y documentación requerida, háganos saber su decisión tan pronto como sea posible para proporcionarle un apartado postal ó dirección física donde usted deberá enviar el correo requerido.
Si elige "procesamiento electrónico" debe comprender que en esta modalidad se usará el correo electrónico para enviar formularios escaneados y documentos. Este método puede acelerar considerablemente el procesamiento para evitar retrasos y la incertidumbre causada por citas personales y/o el sistema postal en algunas partes.
"Procesamiento electrónico" es opcional en nuestro website donde su solicitud será procesada. Usted debe decidir si participará y por lo tanto, tenga en cuenta que:
El procesamiento electrónico comienza con un correo electrónico de usted a nosotros con una petición respecto del asunto a tratar. Por favor no olvide adjuntar una imagen digitalizada de su identificación y los documentos en archivos tipo PDF de todas las cuestiones sobre su consulta, una vez que verifiquemos su información le responderemos tan pronto como sea posible.
¿Qué pasará si participo?
Cuando usted participa en el procesamiento electrónico comenzará a recibir correspondencia de correo electrónico en lugar de correo físico de nosotros. Algunos formularios y documentos deberán presentarse por correo ordinario de cualquier forma. Las formas enviadas por correo electrónico deben ser analizadas y adjuntadas a un mensaje de correo electrónico.
¿Qué capacidades son necesarias?
El solicitante (o agente) y el peticionario deberán:
· Tener acceso regular al correo electrónico de servicio de internet;
· Tener la capacidad de escanear documentos en archivos PDF; y ser capaz de enviar los formularios requeridos.
· Documentos electrónicamente (Algunos formularios y documentos deben ser enviados por correo ordinario o físicamente en nuestras oficinas.)
¿Qué podría hacer ahora para participar en el programa?
Debe enviar un correo electrónico a info@mexicanlegalconsultant.com
Si usted no puede participar en el programa electrónico, debe seguir los pasos que hemos solicitado para las otras opciones.
Después de eso, para formalizar la relación profesional con nosotros, debe firmar un acuerdo para establecer o mantener la relación profesional en este asunto. En caso que usted decida contratarnos para que lo representemos, la consulta inicial puede ser gratuita y/o estar incluida en el costo total que se le formule por la representación que normalmente se encuentra regulada conforme aranceles básicos o convencionales de tasas de honorarios.
Usted debe saber que para proveerle un consejo legal certero, previamente es necesario realizar ciertos procedimientos de verificación de identidad, recabar cierta documentación para ser verificada con respecto a la posibilidad de conflicto de intereses en su caso, y formalizar con la documentación requerida desde luego, la relación profesional.